Nailed It: Sally Hansen's Jazzy Jade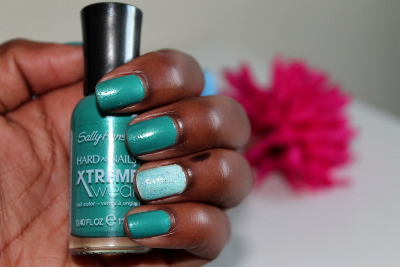 So I was recently inspired by a good friend of mine (Hey Tiff!!) to start doing my own nails again.  For the past few years, I have been going to the nail salon every other week to get a gel mani. What I didn't like about getting a gel mani is that the polish would never match the regular polish that was used on my pedi!  With doing my own nails I no longer have this problem.
I most definitely will be looking to Pinterest for inspiration on my nails.  I'm keeping it pretty simple for now but am so excited to try different designs and to bring you on this journey with me!
To achieve this look I started with the Sally Hansen Double Duty base & top coat.  This base & top coat is uh-mazing and allows the polish to go on smoothly and really seals the deal as a top coat and prevents chipping.
After one coat of the Double Duty, I then applied a coat of the Sally Hansen Jazzy Jade on all of my nails except for the ring fingers.  I let them dry a bit and then applied a second coat.
I then applied 2 coats of the Sally Hansen White On to my ring fingers.  Once those dried a bit I added the Sally Hansen See-ing Stars for a splash of glitter.
I topped it off with the Double Duty and made sure my nails were completely dry before I started moving around.  It was simple and super quick.  I can't wait to show you what I try next week!  Where do you find your nail inspiration from?  Comment below and let me know or tag me in your nail photos on instagram @arteresalynnstyle.
Peace & Blessings
Arteresa Lynn